Ladies finals day will be held in conjunction with the retired men on Wednesday 1st. April 2020. Commencing at 10am.
Please come along and support.
Ladies A.G.M will be held on Monday 23rd March

Committee at 12noon
Members at 1.30pm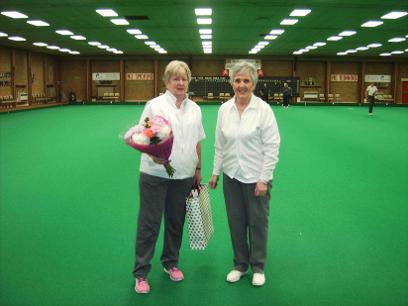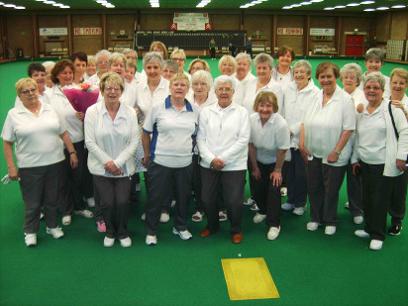 A presentation was held at Merthyr Tydfil Ladies Indoor Bowls Club when the Ladies President Mrs Ros James presented a gift to Mrs Jane Type MBE on behalf of the Ladies club.
Mrs Jane Type MBE, on Tuesday March 10th 2020 at Llanelli IBC is to be Inaugurated as President of the B.I.I.B.C at their A.G.M.
The Merthyr Ladies wished Jane every success for the forthcoming year
LADIES INDOOR BOWLS CLUB START OF SEASON 2019//20
IMPORTANT DATES
PRE-SEASON MEETING MONDAY 9th SEPTEMBER 2019
COMMITTEE 12NOON
MEMBERS 1.30PM
MONDAY UMBRELLA COMMENCING MONDAY 30TH SEPTEMBER 2019
1.30PM-3.30PM THROUGH TO MONDAY 16TH DECEMBER 2019
NEW BOWLERS WELCOME TO THIS SESSION
CHRISTMAS BREAK
RETURNING MONDAY 13TH JANUARY 2020 CONCLUDING MONDAY 23RD MARCH 2020
LEAGUES
TUESDAY COMMENCING TUESDAY 17TH SEPTEMBER THROUGH TO TUESDAY 17TH DECEMBER 2019
1.30PM- 3.30PM CHRISTMAS BREAK
RETURNING TUESDAY 7TH JANUARY 2020 THROUGH TO THURSDAY MARCH 26TH 2020
THIS INCLUDES THURSDAYS MARCH 19TH/ 26TH 2020
THURSDAY COMMENCING THURSDAY 19TH SEPTEMBER 2019
COLOURS THROUGH TO THURSDAY 19TH DECEMBER 2019
1.30PM- 3.30PM CHRISTMAS BREAK
RETURNING THURSDAY 9TH JANUARY 2020 CONCLUDING THURSDAY 12TH MARCH 2020
LADIES FINALS DAY TUESDAY//WEDNESDAY 30//31st MARCH 2020
LADIES AGM MONDAY 6th APRIL 2020
COMMITTEE 12NOON
MEMBERS 1.30PM
CHARITY GAME AIR AMBULANCE WALES
WEDNESDAY 2nd OCTOBER 2019 1.30PM
Raffle
TY-AFAN CHILDREN HOSPICE CARDIFF
RAFFLE TICKET SELLING COMMENCES TUESDAY 3RD DECEMBER 2019
RAFFLE PRIZES WOULD BE WELCOME.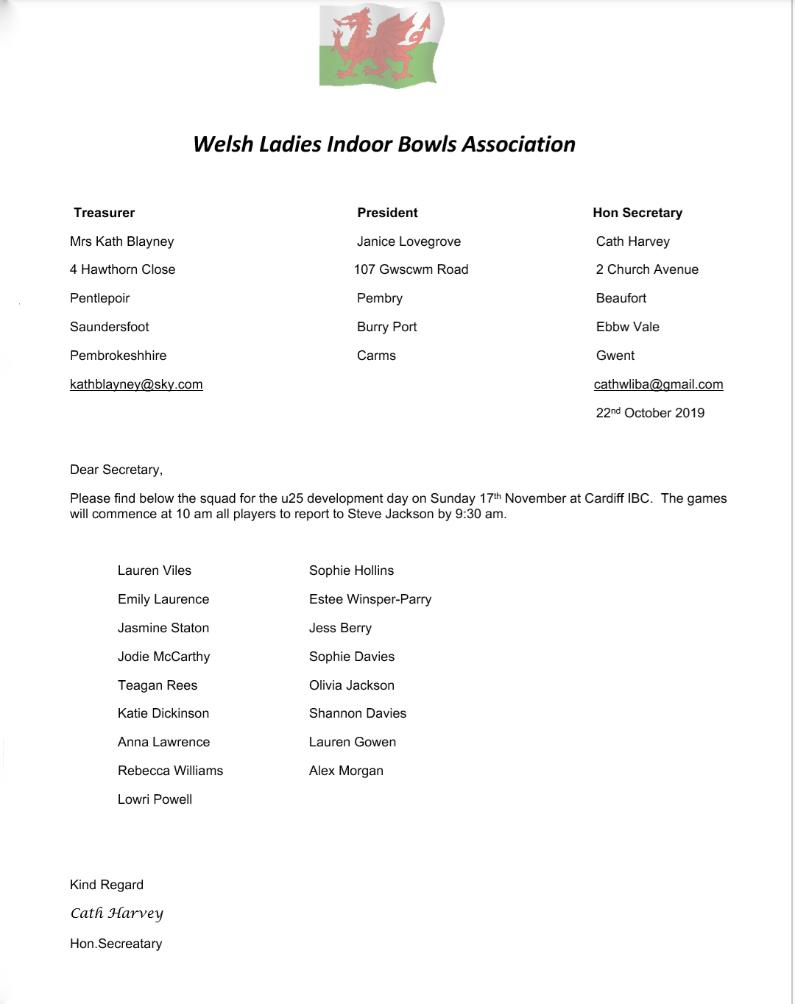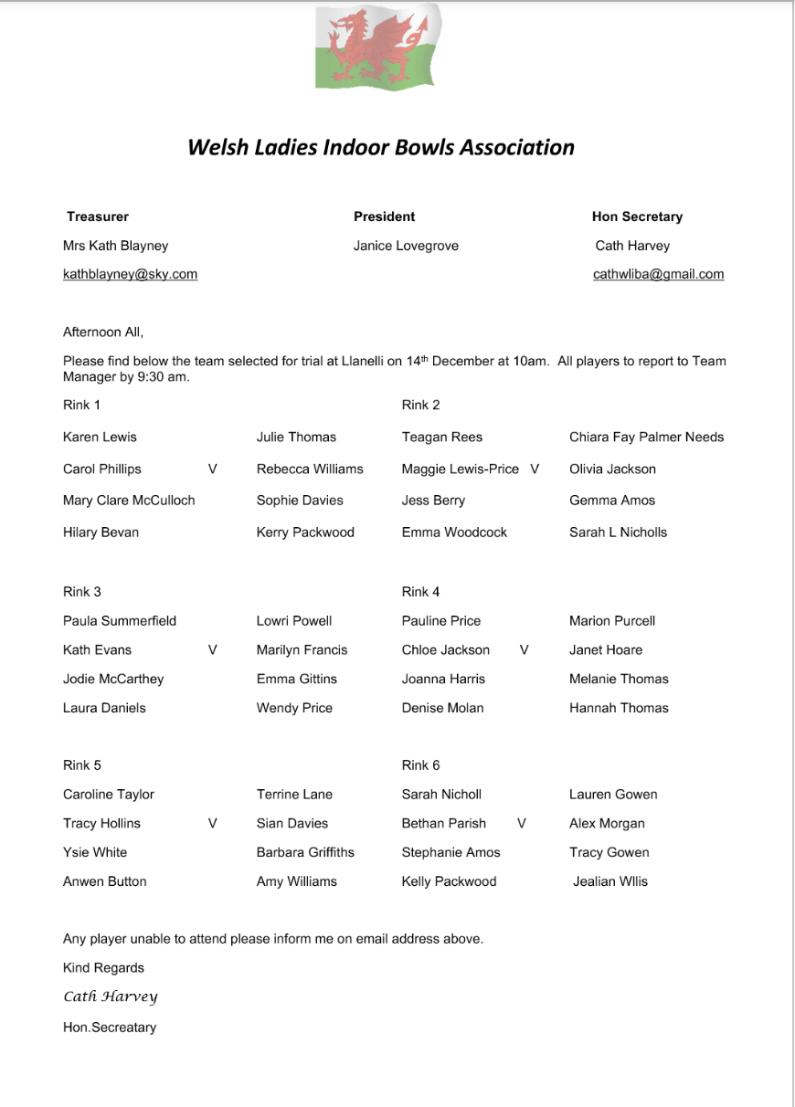 Merthyr Tydfil Ladies' Indoor Bowls Club Officers 2019 / 2020
President: Roslyn James
Vice President: Vacant
Hon. Secretary: Ann Pike
Hon. Treasurer: Mabel Davies
Hon Comps. Secretary: Kay Cotter
Hon.D.J. Fixture Secretary: Sandra Hellin
Monday Umbrella Secretary: Sylvia Broad
Tuesday League Secretary: Pauline Price
Thursday Colour Secretary: Sonia Crane
Auditors: (Sen) Marilyn Jones
(Jun) Margaret Collins
R.B.A. Delegates: Ann Pike and Lyn Vaughan
Ladies Finals 2019
Championship: P. Price
Runner up: S. Nicholls
St. Tydfil's Trophy: P. Price
Runner up: . O' Connor
Novice: K. Cotter
Runner up: M. O'Keefe
Pairs: A. Jones & C. O'Connor
Runners up: Y. Baker & P. Price
Veteran Pairs: M. McKeon & P. Price
Runners up: M. Jones & M. Jones
2 Wood Pairs: C. O'Connor & S. Nicholls
Runners up: A. Pike & P. Price
Triples: M. O' Keefe, Y. Baker & C. O' Connor
Runners up: L. Benbow, A. Pike & L. Gilchrist
Rinks: M. McKeon, L. Benbow,A. Pike & R. James
Runners up: G. Pritchard, L. Hughes, J. Roberts & M. Gamlyn
Tuesday League: Winners Team 4
Thursday Colour League: Winners Blue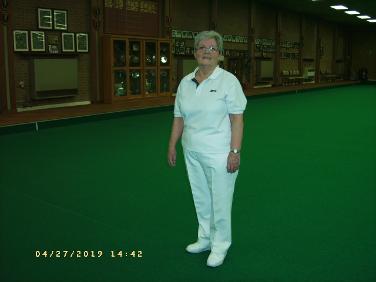 Pauline Price Championship winner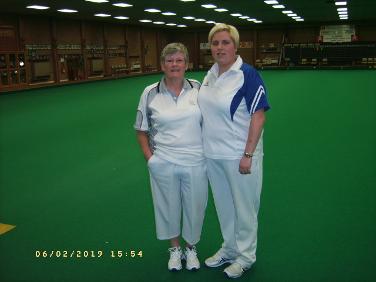 Colleen O' Connor & Sara Nicholls 2 Wood Pairs winner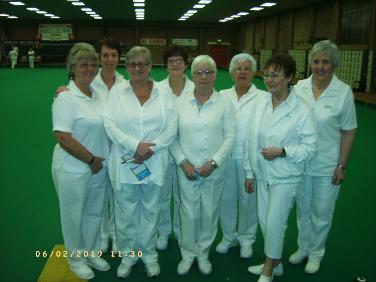 Maria McKeon,Leslie Benbow, Ann Pike & Roslyn James Fours winner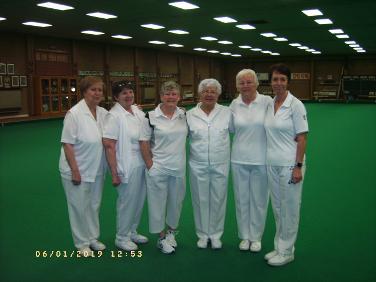 Marlene O' Keefe, Yolanda Baker & Colleen O' Connor
Triples winner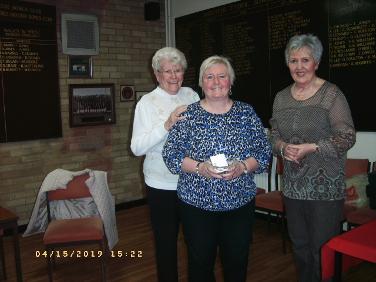 Kay Cotter Novice Singles Winner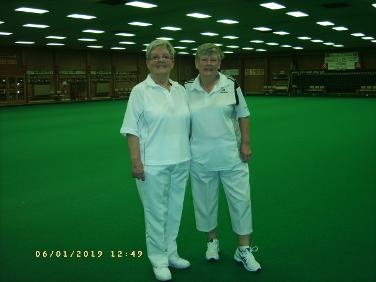 Pauline Price Tydfil Trophy winner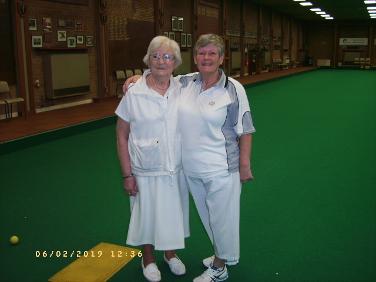 Anne Jones & Colleen O' Connor Pairs winner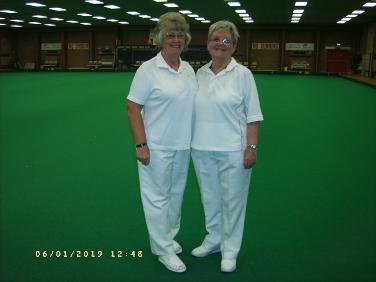 Maria McKeon & Pauline Price Veteran Pairs Winner
Honours Board
R Jones WLIBA Singles Winner: 1979-84-86-91-92
P GriffithsWLIBA Singles Winner: 1981
P Griffiths / V Howell / F Lewis WLIBA Triples Winners:1985
A Mullins WLIBA Singles Winner: 1987
P Griffiths / V Howell / M Rees / F Lewis WLIBA Fours Winners: 1987
L Nicholas/ P Czernecki/ D Cooper WLIBA Triples Winners: 1988-1991
R Jones/ A Mullins/ A Davies WLIBA Triples Winners: 1989
R Jones / A Mullins / A Davies: British Isles Triples Winners 1989
R Jones / P Czarnecki / A Mullins / D Cooper WLIBA Fours Winners: 1991
P Griffiths / J Evans / V Howell WLIBA Triples Winners: 1993
R Jones /A Mullins WLIBA Pairs Winners: 1993
R Jones / A Mullins: British Isles Pairs Winners 1993
R Jones / A Mullins / A Pike WLIBA Triples Winners: 1995
R Jones / P Czarnecki / A Mullins / A Pike WLIBA Fours Winners: 1995
R Jones / A Mullins / P Czarnecki / A Pike: British Isles Fours Winners 1995
R Jones / A /Greenaway / A Mullins / A Pike WLIBA Fours Winners: 1996
R Jones/ AMullins/ Anne Greenaway / A Pike British Isles Fours Winners 1996
R James / P Price / M Hopkins / C Difford WLIBA Fours Winners: 2004
M Gwynne / N O'Sullivan WLIBA Pairs Winners: 2007
A. Pike WLIBA Team Captain: 2011-12
A. Pike WLIBA Team Manager: 2013-14-15-16-17-18
P. Price WLIBA Singles Winner: 2016
L. Viles, C. Davies & E. Humphreys W.I.B.A. Junior Triples Winners 2018
L. Viles & E. Humphreys Junior Pairs winners 2019
International Players
L. Nicolas: 1974-5-6-7-8-9-80-1-2-3-4-5
P. Griffiths: 1974-5-6-7-8-80-1-2-3-4-5-6-7-8-9-90-1-2-3-4-5-6-7-8
R. Jones: 1977--8-9-80-1-2-3-4-5-6-7-8-9-90-1-2-3-4-5
A. Mullins: 1978-9-80-1-2-3-4-5-6-7-8-9-90-1-2-3-4-5
V. Howell: 1983-4-5-6-7-8-9-90-1-2-3-4-5-6-7-8-9
I. Baker: 1986-7
P. Czarnecki: 1987-8-9-90-1
J. Evans: 1990-1-2-3
M. Jones:1992
A. Pike: 1994-5-6-7-8-9-2000-01-02-03-04-05-06-07-08-09-10-11-12-13
R. James: 1995-7
P. Price: 1996-7-8-9-2000-01-02-03-04-05-06-07-08-09-10-11-12-13-14-15-16-17-18 -19
M. Gamlyn: 1997-9-2004-05-06
M. Jones: 1999
N. O'Sullivan: 1999-2000-01
M. Gwynne: 2001-02-03-04-05-06
C. Difford: 2004-05-06-07-08-09-10-11-12-13-14-15-16-17
S. Nicholls: 2016-17-18-19
C. O'Connor: 2018
Junior International Players
Sara Nicholls: 2007-13-14-15-16-17-18-19
Lauren Viles: 2019