Rhydycar Indoor Bowls Centre will be open for members to pick up their bowls etc. every Monday 10 am until 12 noon except Bank Holidays until further notice
The Bowls Club has now been closed by M.T.(R)B Ltd. It is unlikely to open again during the indoor season. I suggest we cancel our meeting on Thursday but please consider my proposals below.:-
We ask Gary to contact Citroen and inform them the finals night has to be cancelled. Ask them if it is in order to still present the prizes to the Teams that finished in order of merit scores as at last match.. After all the teams played all season to reach a conclusion. Cannot think of any objections from the players.
The Club finals are delayed until Saturday September 26th. This finals day would then include the semi's and Finals. To be played regardless of whether players rejoin our Club.
The M.T.I.B.C. A.G.M. is fixed for Friday September 25th 2020 at 7.30.p.m. If anyone objects to my suggestions they can vote me out of office on the night !!!!
These dates are fixed now. If other matters then intervene i.e. Outdoor games then ours are fixed and players will have to choose where they attend.
Let's be proactive and make the arrangements now.
Peter Brill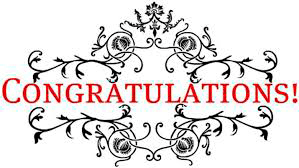 Congratulations go to Mrs. Jane Type M.B.E. who on Tuesday 10th March 2020 is to be inaugurated as President of the B.I.I.B.C. at their A.G.M. at Llanelli I.B.C.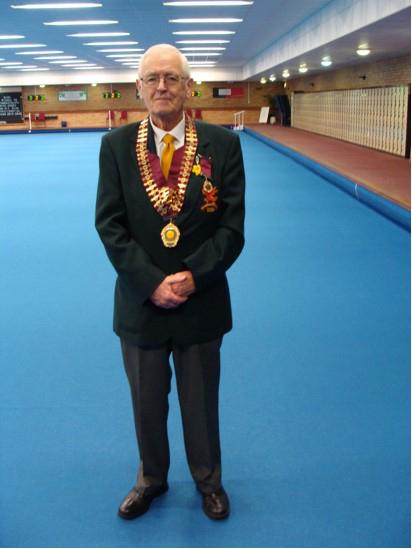 Congratulations go to Mr Peter Brill on becoming The President of The Barbarians Bowls Association for the 2020 season.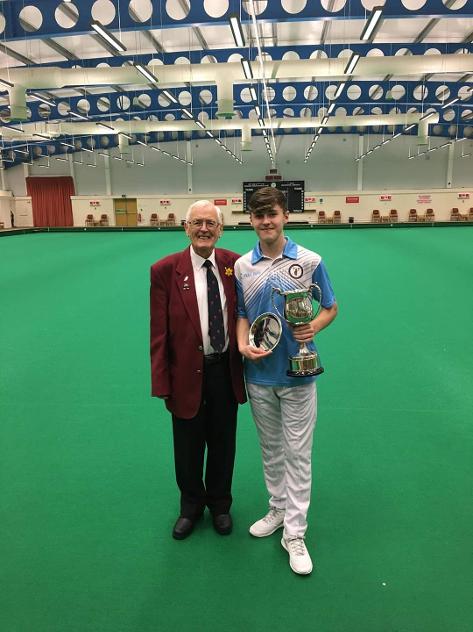 Congratulations go to Cory Davies for winning the Under 16s Singles and commiserations go to Estee Winsper-Parry on getting to the semi finals.
Congratulations go to Pauline Price and Sara L. Nicholls on being selected to play in the Welsh Ladies International team in March 2020 at Llanelli I.B.C.

Also congratulations go to Lauren Viles, Emily Lawrence, Anna Lawrence and Estee Winsper-Parry on being selected to play in the 2020 Junior International ladies team in March 2020 at Arbroath, Scotland.

Also congratulations to Nathan Rees and Ethan Humphreys on their selection for the mens under 25s International team in February 2020 at Stanley I.B.C. Durham best of luck to you all, just enjoy the experience.

Congratulations to Mrs. Jane Type MBE on being elected Vice President of the New British Isles Indoor Bowls Council. The men and ladies have now amalgamated and she is the first lady to have held this post.

Congratulations go to Mrs Pauline Price who has reached the semi final of the Welsh Ladies singles.
The final will be held on Saturday 28th March 2020 at Llanelli I.B.C.

A Charity game was held at Merthyr Tydfil Indoor Bowls Club on Wednesday afternoon 9th October
Ladies V Retired Men. Many thanks go to Merthyr Tydfil Rhydycar Bowls for their generous donation of all green fees.
Thanks go to the ladies for providing the buffet, plus the retired men for providing the raffle prizes. A pleasant afternoon was had by all. Proceeds go to Air Ambulance Wales.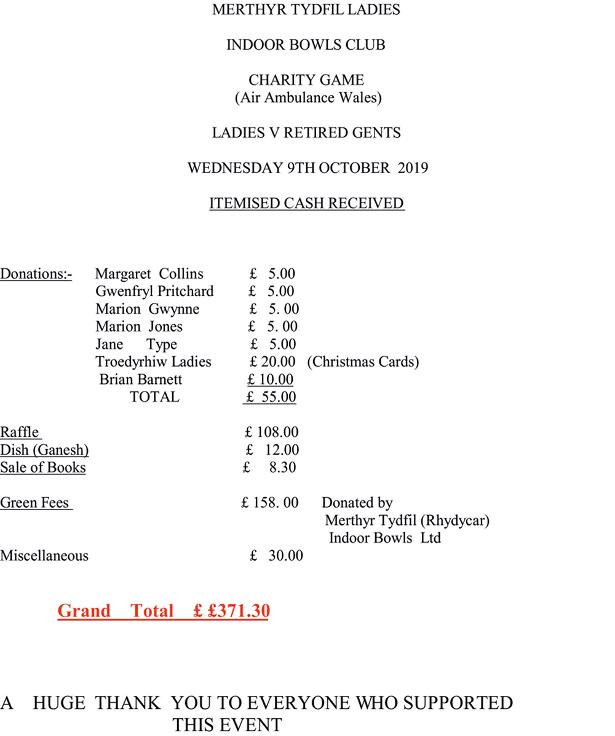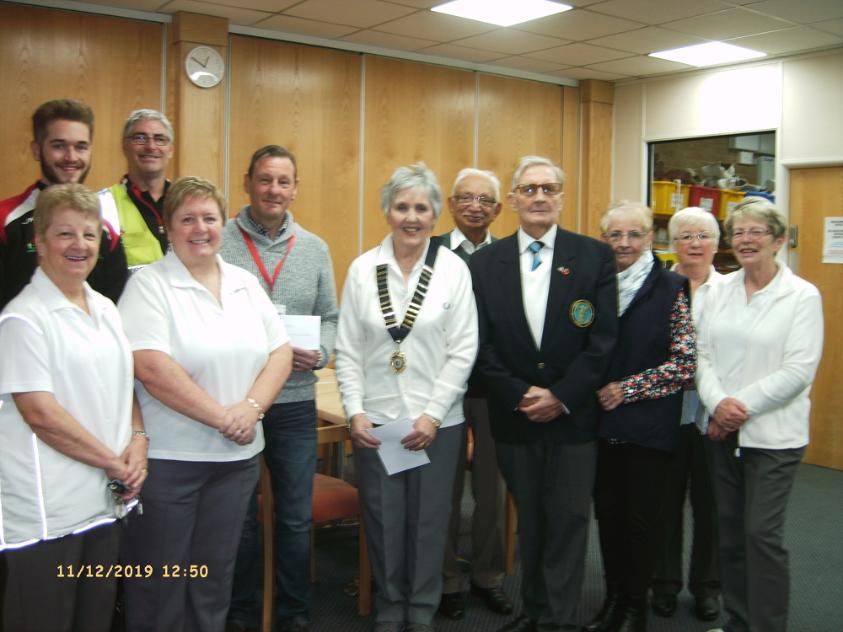 Thanks to the generosity of Jonathan Evans and his firm EME Installations sponsorship money has been made available for the purchase of brand new club shirts for the forthcoming season. The shirts are standard fitting and can be purchased at a cost of £10 each. Orders can be placed with Colin Rees, John Maidment and Peter Brill.







All team news can be found on the "Fixture-List" page
NEW COMPANY NAME
The RHYDYCAR BOWLS ASSOCIATION HAS CHANGED ITS NAME TO THE FOLLOWING TITLE:
MERTHYR TYDFIL (RHYDYCAR) BOWLS LIMITED
COMPANY NUMBER 8547786